1st Annual Gibsland LA Parafest March 26th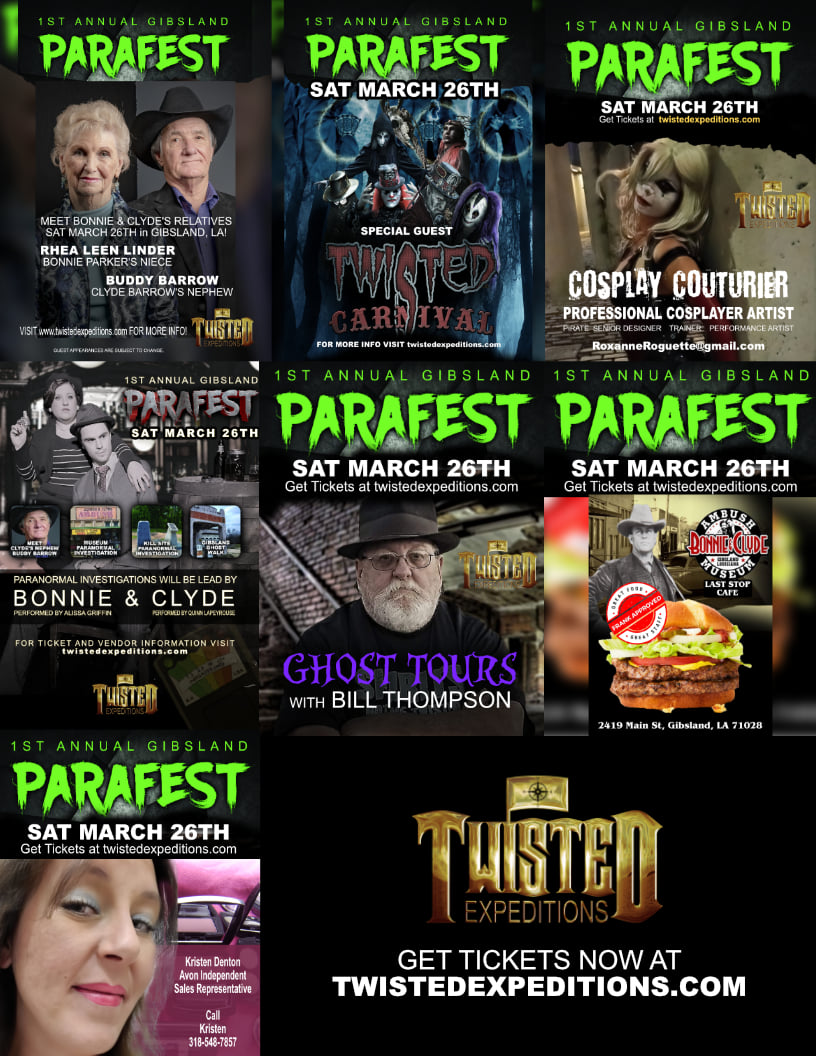 Gibsland, Louisiana:
Saturday, March 26th 2022 @ Bonnie & Clyde Ambush Museum
11am to 6pm
[with special Paranormal Investigations 8pm to midnight]
Family fun and games with
1930's Bonnie & Clyde themed event and 1st annual Ghost Hunt. Meet
characters from the Twisted Carnival movie series and explore the dark history of the renegade
couple's final adventure through Gibsland, Louisiana.
Featuring:
• Bonny Parker's niece Rhea Linder and Clyde Barrow's nephew Buddy Barrow for photos; and
including Live History Tours with professional Bonnie & Clyde Impersonators: Alissa Griffin
& Quinn
• 1930's Games & Costume Contest; Dark History Tours; Circus Performances; Raffle Prizes;
Treasure Hunt; Vendors
• Eat Bonnie & Clyde's last meal at the Ambush Cafe along with other local treats!
• Special AFTER HOURS event sponsored by Twisted Expeditions: Paranormal Investigation of
the mysteries of the Ambush Museum; Ambush Site, and other locations 8pm until Midnight!
Proceeds of the event go to funding the Bonnie & Clyde Ambush Museum/Maintenance of the
Historic Markers/Families of the Renegades to reunite them in Death's loving embrace.
For more information contact StrikeFastStudio.com or (601) 53E VENT [601 533 8368]
Strike fast before your competitors do!